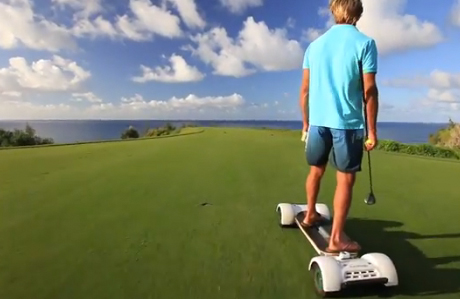 Laird 'The Innovator' Strikes Again
The Innovator
You can watch Laird, you can follow Laird, you can emulate Laird, heck you can even blame Laird. But one thing you can't do is stop Laird.
So listen up, adventurers, because Laird 'the Innovator' Hamilton has struck again. This time, it's on land. Now even if you find yourself out of the water, you can still have your feet on a board. A Golfboard.
First it was tow-in surfing, as an innovative way to catch the biggest and best waves.
Then it was Stand-up Paddleboarding, as an innovative way to experience optimum health.
Now meet GolfBoarding, an innovative way to Surf the Earth while enjoying a round of golf.
Brilliant from concept to execution, the GolfBoard promises to change the way both new and regular golfers experience the game as they Surf the Earth from shot-to-shot during their round. But leave it to Laird to innovate the concept one step further – GolfBoarding.
Utilizing his uncanny balancing abilities, combined with laser-sharp hand/eye coordination (and a pretty darn good golf swing!), Laird is unleashing a new twist on the ancient game in this clip. Could this mark the end of the 4 1/2 hour round of golf? We think so. Go ahead – thank Laird.
By Jim Black
Golfboard
more articles about GolfBoard:
Latest From GolfBoard